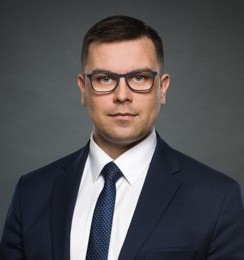 Legal trainee
Daniel specializes in indirect taxes such as VAT, excise tax, and customs duty as well as in civil proceedings. He is experienced in tax services provided to corporate Client and in tax advisory for Polish and international businesses carrying out operations in different branches of the economy, in particular in the media, telecommunications, and manufacturing industries. Daniel is responsible for giving opinions on agreements and other documents and for verifying tax settlements in terms of their formal and legal correctness. He participates in determining tax consequences for and tax risks in Clients' projects. In addition, he represents Clients before tax authorities and in common courts. Daniel gained his professional experience in tax authorities, a reputable law firm, and as a business in-house lawyer. He participated in the second-instance administrative review of VAT decisions given by tax authorities.
Education:

Faculty of Law and Administration, Nicolaus Copernicus University in Toruń.
Academy of Companies, Warsaw School of Economics.
Trainee attorney-at-law, District Chamber of Legal Advisors (OIRP) in Warsaw.
Non-business passions:

Geoeconomics, new technologies, blockchain.
Publications:
"How to avoid the risk of tax liability. Tax compliance", ed. P. Tomczykowski, Wolters Kluwer, Warsaw 2021.
Specializations:
Indirect taxes – VAT;
excise tax;
duty tax;
tax proceedings;
civil law;
commercial and administrative law.
Customer service in language: