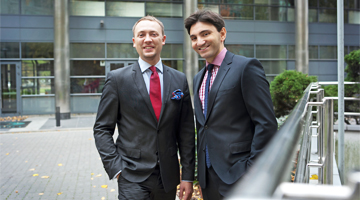 The company FBG "Trust & Consulting" S.R.L. is owned by the partners of the law firm and tax consulting firm "Kancelaria Radców Prawnych i Doradców Podatkowych Ferretti Bębenek i Wspólnicy", with offices in Warsaw & Katowice (Poland) – which for several years has had the pleasure of assisting many companies with Italian capital operating in Poland.
Having many years of professional experience in Poland, the firm's partners decided to set up their own consulting firm in Italy, specifically in Rome, while at the same time entering into a strategic partnership with Sercam Advisory.
The goal is to provide its services directly to Italian companies, in Italy, as well as to attract foreign investments in the Bel Paese, first and foremost Polish companies, a country that in the last 20 years has had an exponential growth in point to all indicators. cheap.
We are confident that despite the terrible pandemic that has created and continues to create various problems for our companies, that the Italian, European and international economy, as after every economic crisis, will recover, also bringing several new opportunities.
Our goal is not only to offer you our best advice to help you solve your problems, but above all to assist you in the development and management of your business in Italy, as well as in Poland and elsewhere abroad. Thanks to the development recorded in recent years of activity, and to the new challenges we have set ourselves, the Firm, starting from its headquarters in Warsaw, has decided to invest in two new projects: the opening of a branch in Katowice, now one of the major manufacturing centers at European level, as well as the establishment of a consulting company in Rome, thanks to a strategic partnership with our local partners and partners of Sercam Advisory. This has made it possible to further widen the range of services offered by the Firm and to enhance the business networking that we can make available to our customers.
The Office of Legal and Tax Advisers Ferretti Bębenek & Wspólnicy was born out of a meeting of two avid professionals: Giovanni Ferretti and Paweł Bębenek, who gathered extensive experience in legal and tax advisory and developed their own ideas for establishing cooperation with clients. The awareness of various challenges faced by entrepreneurs led the founders of the Law Firm to join forces in order to prepare a comprehensive offer of specialist legal and tax advisory services. On the website of our law firm you can find out more about our offer in the area of both legal and tax consultancy.
He is a legal adviser with many years of experience in commercial and international law gained in law offices in Poland and Italy. His interest in anti-monopoly law led him to work in the Office of Competition Protection in Rome, while the passion for banking law resulted in the doctoral thesis devoted to supervisory issues in the banking sector (Basel III Standard).
Responsible for the development and management of the tax department. He is a tax advisor with over twenty years of professional experience, which he gained while cooperating with the largest Polish tax consulting offices. Since 2004, as a valued lecturer, he has been conducting tax training – both in VAT and excise tax. He also lectures for the National Chamber of Tax Advisors – including in the West Pomeranian or Lubuskie Branch. He is the author of several dozen tax articles on excise duty, value added tax (VAT), general tax law and tax proceedings, published in tax periodicals, as well as in Rzeczpospolita and Dziennik Gazeta Prawna. He is also a co-author of many books, including comments on excise duty, tax on goods and services, and income tax.
From January 2014, he has been entered on the list of Teramo lawyers (Italy), and from April 2014 – on the list of foreign lawyers of the District Administrative Court in Warsaw. He worked at the Licursi Associated Law Firm based in Teramo, Italy. He advises on court and out-of-court cases for companies that operate or intend to operate abroad. In addition, it supports clients in matters of contracts, debt collection, development and management of commercial networks, franchises, and distribution agreements. Currently, he teaches Italian law at the Interdisciplinary Postgraduate Studies in Translators at the Institute of Applied Linguistics at the University of Warsaw.
Thanks to the experience and knowledge of the specialists with whom we cooperate, the legal department of our company is able to provide high quality services responding to the diverse needs of our clients.
We have a strong international focus in our activities, which enables us to offer assistance and protection to our clients'; interests in Poland, Italy, other EU Member States and major jurisdictions outside the EU.
Thanks to our cross-border experience and extensive networking at the international level, we advise our clients on international expansion processes, providing them with appropriate legal, tax, accounting and human resources support.
In the succession plan we perceive death as a property and economic risk. We analyze its effects in terms of law, taxes, finance and strategic decisions concerning the organization. We assume that the full and correct implementation of succession plans is ensured by a combination of specialized legal, tax and financial advice.
We offer a wide range of services in all international cases, we examine all possible aspects of a cross-border nature thanks to cooperation with many foreign law firms.